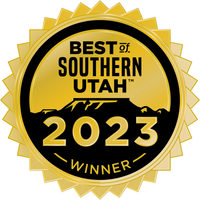 Thank you for voting us Best Jewelry Store in Southern Utah 2017-2023!
We love our community and are honored to serve you!! 
We are your Custom Jewelry Experts!
We LOVE custom design and would be thrilled to help you create your dream jewelry piece!
Simply text us at 435-465-0137 with any images or descriptions of what you are thinking and one of our custom design experts will get back with you!
Testimonials
I have never felt so comfortable making a huge purchase like this in my life. I went in and was greeted by two kind employees. They went right to work looking for the ring that my beautiful soon to be wife wanted. They had a beautiful selection but they didn't have the EXACT ring that she was looking for. Megan who is actually one of the owners jumped right onto the computer (which we could both see when she was searching on a large TV in the show room). The other employee grabbed a book full of different options. Between the two we found the EXACT PERFECT ring that my lovely bride to be wanted. Megan ordered it in and let us know when it was ready, it was here within a couple days. We went in to see the band before the stone was placed to make sure it was what she wanted and she LOVED it! I was so pleased with the service and kindness that was shown to me. Each visit we were given chocolates and treated like royalty. I will continue to shop at Forever Young Fine Jewelers and no where else. If I could give them more than 5 stars I would!

John E.
I had a anniversary ring custom made. It was a long process for me working out the details. Forever Young was terrific giving me great ideas and assisting me through my creative process. They got the job done on time and the details and workmanship was superb. I am so pleased. My sweet heart was blown away.

Melodie N.
I appreciate the exceptional service and care provided to my wife and I. I took my wife there for her birthday not really having any idea what to get her. When I arrived, I explained what I was willing to spend and then they proceeded to give us ideas within our budget. Before we left, not only had they helped us customize a mother's ring and arranged to repair my wife's wedding ring, but they had also resized by wedding band and cleaned it at no additional cost. I had no idea my ring could be resized to fit better. It feels great! And my wife loves her mother's ring.

Joseph F.
This store is beyond phenomenal. I came in looking at a very specific ring that I found on their website and with a very specific mindset of not going over a certain price point. I had tried going to a rival jewelry store in the area, but they left me with a bad taste in my mouth. With Forever Young, they kept me under my price point, but showed me options that would give me a better bang for my buck. In fact, once we decided on the ring, with a moissanite stone, she calculated the price, and she hesitated before she told me. She was visibly upset that we had gone over my budget... by about 35 bucks. She was upset that she couldn't make me 100 percent happy at every turn. That right there sealed the deal for me. She took it her work very seriously and the end goal was that I was happy. I would highly encourage anyone to go into this store. They are honest, helpful, not pushy and straightforward. I had to place a slight rush on the ring to get it in time, which was on me since my time table moved up, but the ring arrived when they said it would and even got sized incredibly quickly, way before the estimated time.

Matthew R.
Forever Young Fine Jewelers was easy to work with. I took them my wedding ring to have it cleaned, replated, and to make sure my diamonds were all secure. I took my ring to a few other stores to have this done and they told me it would be a month before I had my ring back. Forever Young Jewelers had my ring back to me within a week. They are kind, friendly, and will answer any questions you have. I highly recommend them and plan to have them design a band to match my wedding ring!

Amanda N.
Forever Young Fine Jewelers
41 N. Main Street
St. George, UT
Call: (435)673-2471
Text: (435)465-0137 
Tuesday-Friday: 10:00am - 6:00pm
Saturday: 10:00am - 4:00pm
Closed Sundays and Mondays
0% Financing Available
Yes! We offer 0% financing through Synchrony Financial.
The application is easy and only takes a few minutes to be approved.
Apply Here